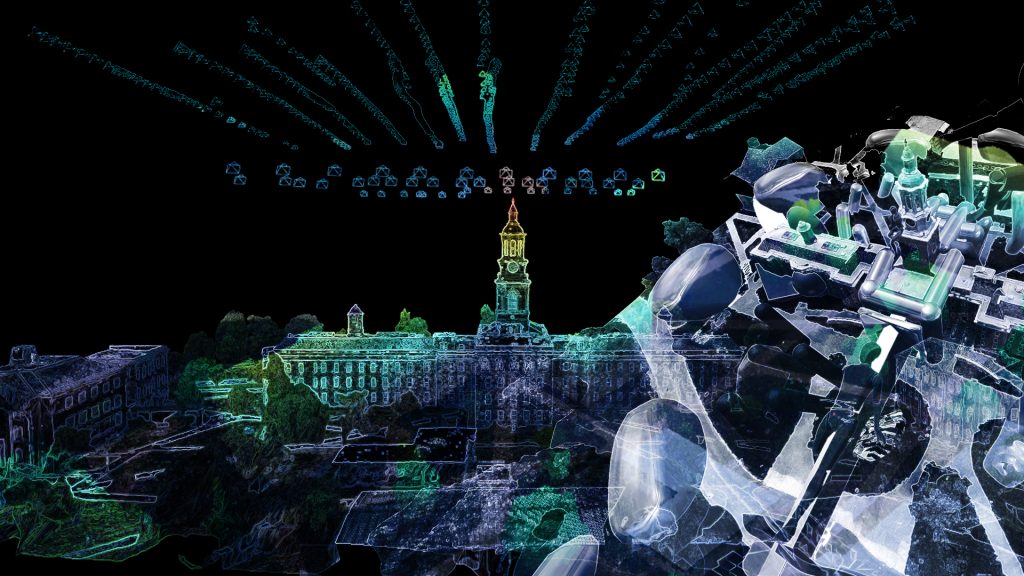 Instructor: Randy Fernando and Shawn Chiki
ARC 617
Fall 2023
DESCRIPTION: 
This course utilizes experiential learning methods to address how designers can interface the nuances of real and virtual environments during the creative process. Tools used in this course include Virtual Reality, Augmented Reality, AI, Grasshopper, Rhinoceros 3D, Blender, 3D Scanning/Drone 3D Scanning, Advanced 3D modeling, simulation software, and 3D printing. The course will be run with weekly workshops that ultimately will culminate with the production of virtual and physical artifacts that will be displayed as part of an immersive exhibition at the end of the term.
In this course, students will explore the increasingly blurred boundaries between digital and physical phenomena. Utilizing virtual reality, we will sculpt, interact, build, and play within virtual spaces, then bring these experiences into the tangible world as physical prototypes. We will embrace the quirks and imperfections of unpredictable digital tools as collaborators, influencing our methods and aesthetics. By encouraging the use of accessible yet flawed technologies, we aim to stretch our collective imagination of the future of our built environments. From glitching software to creating mixed media environments, students will learn to navigate and manipulate the gaps in both digital and physical worlds that await exploration.
This seminar offers students a unique opportunity to explore the frontier of architectural design, cultivating a rich set of technical skills that are increasingly relevant in contemporary practice. The course is designed for those who are eager to push the boundaries of design and technology, and who are interested in exploring new methods of visualizing and realizing architectural spaces. By fusing these dimensions, we can set new technological standards in the fields of construction, manufacturing, and design, pushing the boundaries of what is possible in the evolving digital landscape.
This course will provide hands-on experience with cutting-edge technologies, alongside theoretical discussions about their implications in the field of architecture. This blend of practical skills and intellectual inquiry will equip students to navigate and contribute to the evolving landscape of architectural design.